It's almost buying season, and if you're on the prowl for a new big-game or predator wrecker that has proven accurate, reliable, and a joy to shoot, give CVA's Cascade XT a look.
by Mark Kayser
The number of new rifles on the market that fit most blue-collar budgets, plus shoot accurately, has increased exponentially in the past decade. To keep prices down, companies do have to cut a few corners, but in many instances, price-savings include a more economical stock, magazine, and other components that can be constructed of slightly more affordable elements yet retain ruggedness in the rifle.  
Over the past few months, I have zeroed, carried, hunted, and basically abused a new addition to this affordable family. CVA, known for its dedication to muzzleloading excellence, took a deep dive into the rifle market in 2019 with the launch of the Cascade. Since then, CVA has expanded the line with a late 2022 launch of the Cascade XT, a rifle I used exclusively for coyote hunting this past fall. 
Although CVA has a muzzleloader background, they did not jump into this market from scratch. CVA is owned by a larger corporate company named BPI. This company has several other companies under its umbrella, with a notable, helping cousin you might recognize, Bergara. Bergara is well known for its incredibly accurate barrels and a complete line of hunting and competition rifles. Bergara also manufactures barrels for many popular brands of rifles in addition to outfitting its rifles, and now CVA's affordable Cascade lineup wears Bergara barrels as well. 
That lineup includes a conventional Cascade in matte blue, a Cerakote model, and the Cascade SB, a short barrel version, ideal for brush hunting or a truck rifle. The XT stands out for all the innovations in previous models but added a heavier Bergara barrel for accuracy and fluting to keep overall weight controllable.
CVA wants to ensure you can choose calibers to fit any big game or heavy varmint requirement. You can select the 6.5 Creedmoor, 6.5 PRC, 7mm Remington magnum, .308 Winchester, .300 Winchester magnum, .350 Legend, and the hammering .450 Bushmaster. 
Beyond an excellent caliber selection, the critical factor of the XT is its teaming with a proven Bergara barrel. CVA is so confident of these barrels and their associated hardware that they offer an accuracy guarantee. Purchase the rifle, and you receive 14 days to shoot it to check its guarantee of minute-of-angle accuracy personally. If it does not perform to that standard, return it and move on with your hunting life. 
The XT includes a fluted, #5 taper, carbon steel barrel that partners with the action for this accuracy guarantee. CVA includes a Cerakote graphite black finish for unprecedented protection in any environment. Fluting helps reduce the barrel's weight, and the twist rate varies with each corresponding caliber based on accuracy testing. My test rifle was a 6.5 Creedmoor with a 1:8 right-hand twist rate in a 22-inch barrel. Depending on the caliber, barrel lengths range from 22 to 26 inches to maintain precision. 
Nowadays, more and more, you adorn barrels with suppressors. After checking for accuracy, I immediately took advantage of the pre-threaded 5/8x24muzzle on the 6.5 Creedmoor (the .450 is threaded for 11/16×24) and threaded on my Silencer Central Banish 338. If you do not have ATF clearance yet, all XT rifles arrive with a radial muzzle brake. Except for suppressing sound, the muzzle brake also aids in taming recoil but does increase the noise level of the shot.
The barrel does not rest in the stock as it is free-floated in a rigid synthetic frame. Reinforced with fiberglass, the stock also includes a SoftTouch finish for a sure grip in any climatic turmoil. Standard checkering on the forearm and pistol grip also further your handhold on the rifle. I abide by a Stanley hammer lifestyle, so although I have no aversion to lovers of wood stocks, they do not have a place in my hunting world of bumps, bangs, and bounces. On the other hand, a sturdy synthetic stock always has a home in my truck or backpack.  
The CVA XT stock is also adjustable to enhance fit for those with a varying length of pull. Female and youth shooters will particularly appreciate the ability to vary the LOP (length of pull) from 13 to 14 inches. The XT includes a Crushzone recoil pad to absorb any caliber jarring for added recoil reduction. That recoil pad also swaps easily while adjusting LOP. A classy final touch includes dual front swivel studs that give you options for using both a sling and a bipod. CVA decorates the stock with Realtree Wav3X camouflage, but I added some white tape to my rifle to make it disappear better in the white background of my test field.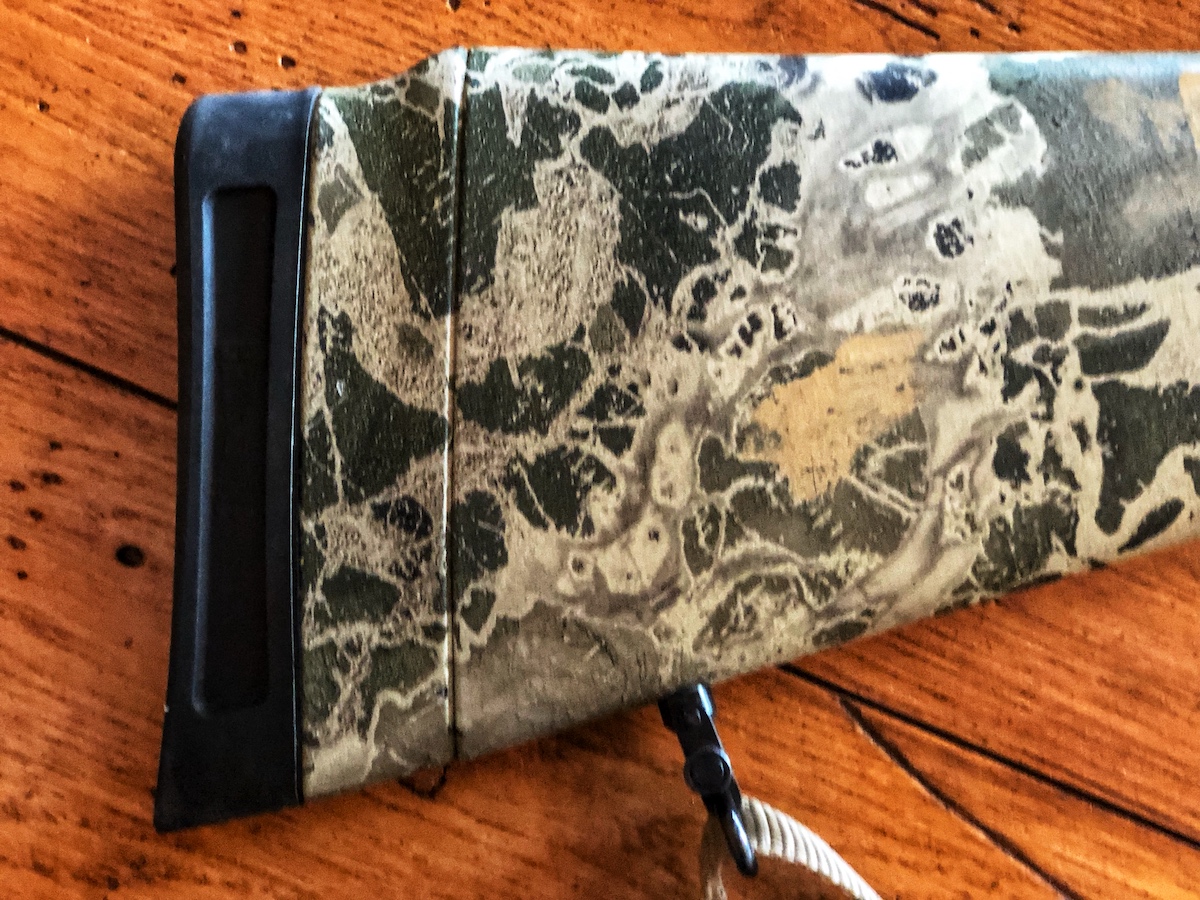 Aside from a quality barrel, the action can screw up accuracy. You have nothing to worry about with the XT's launch pad. The CVA action is one-piece and includes a convenient 70-degree action throw for quick recycling. Cartridge cycling and extraction is assisted with a 3-lug bolt and a sliding plate extractor. Bolt removal is simple with the press of a button at the rear of the action. From beginning to end, the receiver foundation is constructed of 4140 carbon steel for assuredness of any malfunctions. The firearm is deemed safe with a two-stage safety for an ergonomic operation just ahead of the pistol grip. It operates with just enough resistance to give you peace of mind that it is on or off. 
Launch command falls to the responsibility of you and a single-stage trigger. CVA sets it at a hunt-worthy 3-pound setting but offers adjustability from 2 to 4 pounds. The trigger snaps nicely with no anticipatory creep. Fiddle with the poundage per your own needs. Although sturdy, these last few plastic composite items save weight and cost. These include the floor plate, trigger guard, and removable magazine. The magazine on my 6.5 Creedmoor holds three rounds, and while hunting, I would add a fourth to the chamber for readiness. The magazine dropped out easily with the simple press of a button and snapped into place with a click of conviction when inserted.     
I topped my XT with a minimal-weight riflescope, the Sig Sauer SIERRA6-BDX 3-18x44mm. You will need rings, but the XT comes from the factory with two Picatinny bases installed, and CVA also offers one-piece bases from their online accessory store. The 6.5 Creedmoor weighs 7.25 pounds from the factory, and with the addition of the riflescope, it still was below 8.5 pounds. That is not Nutrisystem thin, but just slim enough to consider it for mountain duty. Even with a bipod, I felt relieved after toting a much heavier predator rig the past few years.  
Most brand-name rifle companies now produce affordable rifles with great accuracy for most hunting chores. Add the CVA Cascade XT to the mix. It falls at just under $750 but shoots more like a $1,200 rifle. My pasture range delivered groups that averaged .83 inches with 140-grain Hornady ELD Match ammunition. Please give it a test run. Remember, if you do not like its accuracy, return it, no questions asked.