Western hunting is a gear-layden endeavor, and while there are plenty of must-haves, the backpack is one of the most important decisions you will make. Here are the best four packs for western hunters.
by Jace Bauserman
For over 20 years, the western mountains, sage-sprinkled plains, and cedar-dappled canyons have been my playground. During this tenure, I've learned a lot about gear, specifically the importance of having the right equipment. 
One of the most critical gear choices is your backpack, and now is the time to find, purchase, and spend months learning the ins and outs of your new western hunting companion. Don't make the mistake of waiting until the week before your dream western adventure to make a backpack purchase. You need to develop an organizational system and train with the pack loaded down with weight. 
A quality pack will make the difference between being comfortable and uncomfortable; for many, your backpack will be what you live out of. On many of my western hunts, my pack will harbor a lightweight tent, sleeping pad, blow-up pillow, cookware, first-aid, etc.
Few things are worse than having a bad pack with limited adjustments, which can lead to poor weight distribution and pain. Then there are those packs that ride like a dream but are challenging to get into and promote poor organization. 
Here are four pack choices that will meet an array of hunting styles, promise comfort and durability, and allow you to haul a load in and out of your planned hunt destination. I have tested each extensively, and I dub this lineup my fearsome foursome. 
ALPS OutdoorZ Extreme Frame +3800 Pack
Specs
3,800 cubic inch capacity

5 pounds 13 ounces

24″x 12.5″
Features 
500D Nylon Cordura fabric

3D mesh suspension with lumbar pad

6-position torso adjustment

Easy pack on/off

Full-access main zipper compartment
Why It Made The Cut
This has been my go-to pack for the last two years, and the Elite Frame is remarkable. Light and durable, the frame includes a waist belt with pockets that keep need-right-now gear close at hand, the waist belt strap is adjustable, and I love the non-slip lumbar support pad. The frame's torso is adjustable to achieve an exact fit, and you can't beat how easy it is to attach and detach the 3800 pack. Insert a few silent buckles into no-noise rubberized slots, and you're set. The pack has an enormous main compartment that is easily accessible, and inside the main bag are five mesh organizational pockets. The frame is setup to haul meat, and is fitted with multiple straps to suck meat down tight. Another win of the Elite System is that ALPS offers an Elite 1800 Pack Bag Accessory, which swaps quickly with the 3800 to make a great day pack that still allows you to haul a full load of meat off the mountain. 
I have used the Elite Frame +3800 pack on multi-day elk trips and have swapped the 3800 pack for the1800 when chasing pronghorn and plains mule deer. The pack is quiet, durable, and rides with comfort.
Specs
4,335 cubic inche capacity

6 pounds

30.8″x14″x12.3
Features
Removable lid with zippered pockets

Auto-lock buckles

Top-loading shroud

Side zip entrance to the main bag

Bow and rifle carry straps

500 LP Cordura & 500 Cordura
Why It Made The Cut
I have packed out multiple elk, aoudad, and mule deer with this pack; its comfort is second-to-none. I have one complaint, so let's get it out of the way: the pack has no waist belt pockets. Besides that, this six-pound pack is built like a tank, and I love the simplicity and security of the Auto-Lock Buckles. Entrance to the main compartment can be had via a side zipper, and I applaud the removable lid. Built on Mystery Ranch's Guide Lite MT Frame, this pack can haul a load, and the Overload feature is a win. The Overload system lets you detach the pack from the frame, adjust the length of the Overload system, attach your meat, and reattach the pack to the frame. The meat rides comfortably and securely between the pack and the frame, which keeps blood out of the inside of the backpack. And you don't have to take gear out of your pack to add meat. The five-point waist belt promises perfect weight distribution, and the torso system is adjustable. 
Badlands Vario Frame & Vario 50 OS Pack System
Specs
5,000 cubic inch capacity 

7.9 pounds

34″x13″x12″
Features
Built-in meat shelf

Hip-belt holster

Molded foam suspension

Magnesium Alloy frame

Adjustable yoke

Adjustable waist belt

Daisy Chain lash points

KXO-50 Fabric
Why It Made The Cut
I was in on the original testing of this pack, and during a single season, I packed out a bull moose, two bull elk, one mule deer, and two pronghorn with it. The magnesium alloy frame is tough as nails, and I've yet to tote a load this frame+pack combo can't handle. I applaud the thick, wide shoulder straps, and the molded foam waist belt has a reverse-tightening feature that means once you set ideal tension on the hips, that tension setting holds. I hate having to stop and adjust my waist belt constantly, especially when hauling a full load. 
The Daisy Chain Lash Points on the pack make attaching clothing and other gear easy, and you can't beat the side access zippers to the main compartment. The pack has a detachable rifle/bow boot, and I love the side-stretch pockets. Like ALPS's Elite, Badland's pack goers can purchase several packs in the Vario line, all compatible with the Vario Frame.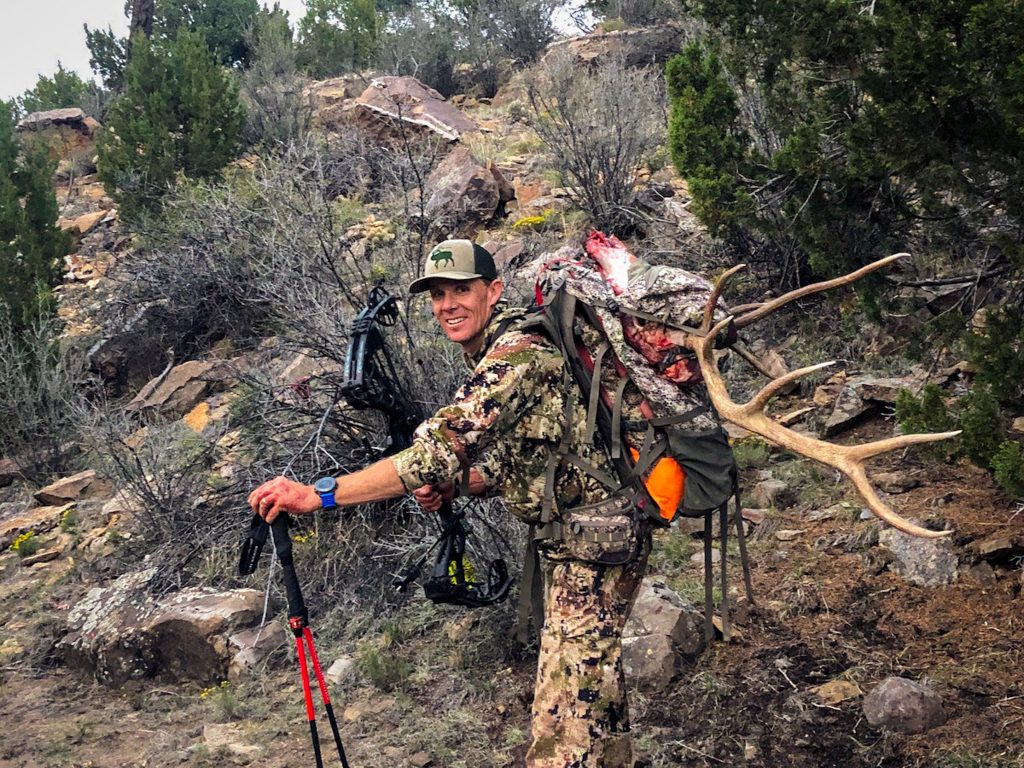 Stone Glacier XCurve Frame & Sky 5900 Pack
Specs
5,400 cubic inch main bag

5.45 pounds with a medium waist belt

26″ frame height
Features
Integrated load shelf

Carbon Fiber Composite Stays

Codura 500D & X-Pac fabric

150-plus pound load rating

Three waist belt sizes

Full panel zip access

96 L main bag with Sky Lid

Front-zippered access to essentials
Why It Made The Cut
This is the pack I used on my 2021 once-in-a-lifetime archery bighorn sheep hunt, and it didn't disappoint. I love selecting a specific waist belt size, and the frame has enough adjustments to ensure the waist belt is centered on the tip of each hip bone. The shoulder straps make solid, perfect contact with the backside of the shoulders, and access to the main compartment is a breeze via the full panel zipper access. 
When it comes to room, this pack delivers it in spades. The pack can be used in bivy mode (without the Sky Lid), or the lid can be quickly attached to give you additional room. I also applaud the 22-inch front vertical pocket's build and location, and it's specifically designed to hold any spotting scope. 
Even with a heavy load, this pack system makes the load manageable thanks to its design and perfect strength-to-weight ratio. If you tend to live out of your pack for days at a time, it's hard to beat the reliability and functionality of this frame and pack. 
Final Thoughts
A good pack-and-frame combo will cost some money — most will push the bill over the $500 mark, and I promise this is money well spent. Few things are more important than your pack choice, and if you choose to go the budget route, it will be all fun and games until your shoulders ache, your lower back is screaming, and contact points are rubbing through your clothing and into your skin. 
A top-tier pack is worth its weight in gold, and when you find the right pack, and now is the time to do that, you'll have a trusted hunting companion that will never fail no matter how strenuous the hunt or daunting the terrain.