Pro Turkey Giveaway Prize Descriptions:
Mossberg 940 Pro Turkey
Pro Turkey Giveaway Prize Descriptions:
Mossberg 940 Pro Turkey
940 Pro Turkey shotguns come optic-ready, with receiver cuts that accept low-profile direct mounting of Shield RMSc-pattern micro dot sights, for improved eye alignment and target acquisition.
More Information

| | |
| --- | --- |
| SKU | 85158 |
| Gauge | 12 Gauge |
| Action Type | Semi-Auto |
| Chamber Size | 3″ |
| Usage | Hunting / Sporting |
| Barrel Type | Vent Rib |
| Barrel Length | 18.5″ |
| Barrel Finish | Mossy Oak – Greenleaf |
| Choke | X-Factor XX-Full Tky Tube |
| Capacity | 4+1 |
| Length | 39.25″ |
| LOP | 13″-14.25″ |
| LOP Type | Adjustable |
| Sights | HIVIZ CompSight FO; Optic-Ready |
| Stock | Adj. LOP, Cast, Drop – Synthetic (MO Greenleaf) |
| Weight | 7.25 |
| UPC | 015813851589 |
Rocky Mountain Hunting Calls Package
The Hoax
The Hoax has a cherry wooden pot with glass-over-slate surface and a 2-piece Dymondwood and maple striker. The glass surface has a preconditioned area so the call is ready to use right out of the package. The combination of glass and Dymondwood make The Hoax a great call for adverse weather conditions. This call will produce raspy yelps, smooth purrs and nasty cutting action.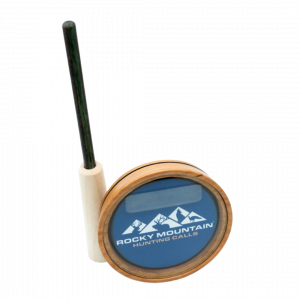 Turkey Diaphragm 3 Pack
One Eyed Tweet – Yellow
This three-reed mouth call is made from premium latex and due to a light stretch on the latex it is one of our easiest turkey calls to blow. You can easily make extremely sharp cuts, raspy yelps, fly down cackles and plain yelps from this call.
Sharp Tooth Jack – White
This three-reed mouth call is made from premium latex with a light stretch on the latex. This call is very easy to blow and is the perfect mouth call to use for making fly downs, cutting and yelping.
Black Max – Black
This three-reed mouth call is made from premium latex and has just the right stretch. Like our other calls this call is one of the easiest blown turkey calls you will find. It's a great all-around call with the batwing cut making it very versatile for producing a very clear front end yelp and a nasty raspy back end.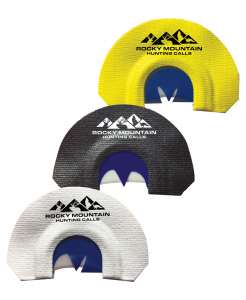 Turkey Strutter Box
This wooden box call contains the V.E.T.T. system with a spring placed inside the box. This helps with volume enhancement, note quality and pitches when operating it to get the desired putts, yelps and cackles that will set that gobbler off more readily.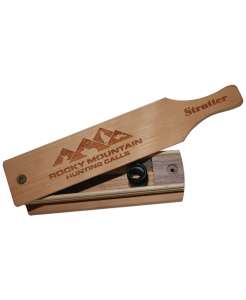 Fiocchi Golden Turkey TSS 12ga Shotshells
Dense patterns, deep penetration, and long-range performance combine for the ultimate tungsten turkey hunting load. Fiocchi's Golden Turkey TSS brings performance head and neck above the rest. Three-inch offerings in 12-gauge, 20-gauge, 28-gauge and 410 bore deliver hard-hitting knockdown power using the finest 18 g/cc tungsten shot and most consistent patterns on the market.
The Fiocchi product development team has developed a true, high-grade load proven effective against the toughest of birds. Avid turkey hunters know the Fiocchi Golden Turkey TSS difference.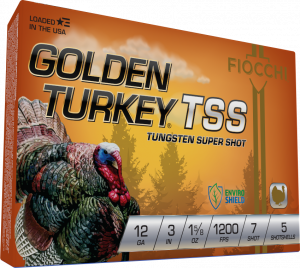 MTM CaseGard Ammo Crate
Designed for ammo storage, although perfect for storing shooting, hunting or survival gear. Ideal for Shotshell storage with it holding 1 flat or 10 boxes of 12 gauge target loads. Two extra strong handles make it easy to carry 65 pounds gear. Designed to be stacked high, using molded-in stacking ridges. Four tie down points for ATV attachment. Utilizing MTM's tongue and groove O-Ring seal system for a superior water-resistant dry storage. Double padlock tabs along with two strong latches make these ammo crates the perfect solution to so many storage needs. Made in the USA, with high-impact polypropylene plastic. Can be used as a boaters dry storage box, first aid, safety and RV camper storage container.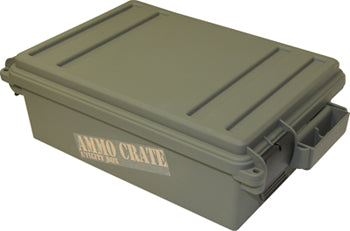 • Carry up to 65 pounds of gear with two strong side handles
• Stackable design and double padlock tabbed for security; Four tie-down points on side
• Water-resistant O-ring seal for dry storage; Non-submersible
• 570 Cubic Inches
• Exterior Dimensions: 17.2″ x 10.7″ x 5.5″(H); Interior Dimensions: 13″ x 9″ x 4.8″(H)
• The latches are mounted on sides for easy carrying; Made in USA